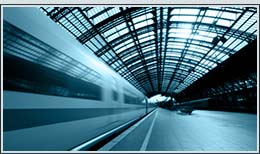 Jonathan Prince

Jonathan Prince formed Quasar Associates in 1999 after working at Babcock & Brown for eight years. At Quasar Jonathan has advised HS2, Crossrail, and Transport Scotland on rolling stock strategy, delivered procurements for Transport for London and Stagecoach, advised Siemens on their successfully bid for Thameslink, and provided advice to buyers or sellers of each of the Angel Trains, Eversholt and Porterbrook rolling stock companies for in total seven transactions.
Previously at Babcock & Brown, Jonathan concentrated on structured, limited recourse and project debt for power, rail, PFI, industrial plant and infrastructure assets. In the rail sector, Jonathan worked on the successful acquisition of Angel Train Contracts. Jonathan subsequently advised Virgin Rail Group on the financial strategy and competitive sourcing of £1 billion of new train finance.
Katie Thompson

Katie joined Quasar Associates in 2004 and has advised numerous transport groups on their rolling stock strategies for UK rail franchises and has advised HS2, Crossrail, Transport for London and Transport Scotland on the procurement and financing of new trains and depots. She has also advised on several ROSCO sale transactions.
Before joining Quasar Associates, she spent 3 years at MDT(UK) Limited working on rail related mandates including advising First Group/Keolis on the £200m procurement and financing of new rolling stock for the TPE franchise. Prior to that Katie spent three years at Babcock & Brown where she specialised in acting as project principal and equity provider for property related PFI schemes in the schools, police and courts sectors.
Before joining Babcock & Brown, Katie worked for six years as a solicitor at Clifford Chance specialising in project finance, principally in the power generation and infrastructure sectors.